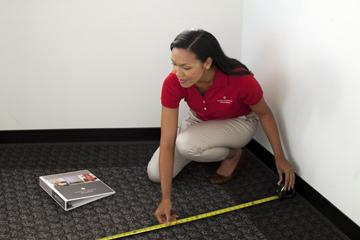 Carpet & Carpeting Montgomery County
You have countless options to consider when considering what type of carpet to choose for your home or business. Carpet is a popular choice in the Montgomery County area because it is comfortable, quiet and because carpet comes in a wide variety of styles and colors perfect for any type of budget. You can use carpet in many different ways. It can convey a style that is classic, colorful, simple, or creative. At Floor Coverings International of Montgomery County, our design associates can assist you in selecting the perfect type of carpet that fits your particular flooring needs.
Many Montgomery County area homeowners choose carpeting because it's both soft and warm. Often times when people choose a type of carpet, they do so with the expectation that the new carpet will look just like the store sample for many years to come. This is not always the case, since the appearance of your carpet can change over time, depending on the style and colors that you choose. At Floor Coverings International of Montgomery County, our design associates will help you make the best decision with regards to which carpet is right for your home in the long run.
Call us at 215-867-5115 to get a free estimate for your carpet project.
Carpet comes in an almost endless array of colors and styles for the look and feeling you want. Textures are plush, tailored, or patterned to bring out the personality of almost any room. Our design associate will help you review the best carpet options for your desired style and budget.
Here are some factors to consider when choosing carpet for your Montgomery County area home.
Lifestyle Choice:
Carpet is comfortable, soft, and warm underfoot
Sound absorbing fibers and proper padding mean quieter rooms making carpet a popular choice for second-story hallways and bedrooms
Regular vacuuming and periodic shampooing greatly prolongs the life of your carpet
Style Choice:
Countless colors and textures allow carpet to fit into almost any decor
Dark, rich colors can draw a room in, creating a cozy feel
Lighter colored carpet opens up a room and can make it seem larger
Also consider that:
Carpet may be a challenge to keep clean if it is used in areas that are subject to stains
and moisture, such as a laundry room
Carpet in strong, bold colors may limit your future options when repainting walls or changing furniture
Contact us today to receive a free estimate for your Montgomery County carpet or carpeting project.